Tok Sen: Tok Sen is an art of massage that part of the ancient art using wooden pads and apply on Sen (massage line) along the body following Sen Sib. This ancient technique is very helpful when apply with Nuad Thai (Nuad = massage) and herbal ball application to reduce tension on large muscle and lessen the strenuous on the therapist thumbs. TMC follow this ancient teaching and apply with Nuad Thai modality to solve conditions. Students will learn this art in a two days class and will be able to apply with Nuad Thai herbal ball application effectively. The wooden hammer tool set and herbal ball will be given to student at no charge. (Tok Sen is a part of curriculum in Comprehensive Thai Massage 90 Hour Program.)
Duration:
12 hours (2 days) 09.00-16.00
Course Date:
Open Saturday or Sunday
For the schedule on Mon – Fri, please contact us in advance for availability.
Prerequisite:    
Thai massage classes minimum of 60 hours with proof of certificate from massage schools.
Offer with No   Extra Charge:

Receive manual of Tok Sen Therapeutic Nuad Thai
An Earth Bag hand painted by special children.
Tok Sen wooden hammer tool and 2 Herbal balls
Herbal tea, practice clothes, transportation in pickup zone.
Digital file for Memory of Your Time at TMC.

Course Fee:     

7,900 Baht (7,110 Baht with 10% discount during 2020-2021)
| | |
| --- | --- |
| | |
| Tok Sen sacred wooden hammer | Herbal ball and Tok Sen tool |
Earth Bag hand painted by Special Children is for you on the first day at TMC
| | |
| --- | --- |
| | |
| Tok Sen on shoulder ancient wisdom best technique to release tension on muscle. | Tok Sen to release tension and blockage on muscle along the spine. |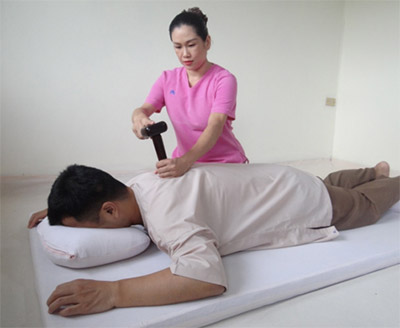 Tok Sen local Thai wisdom Traditional Therapeutic Medicine Modality in Nuad Thai.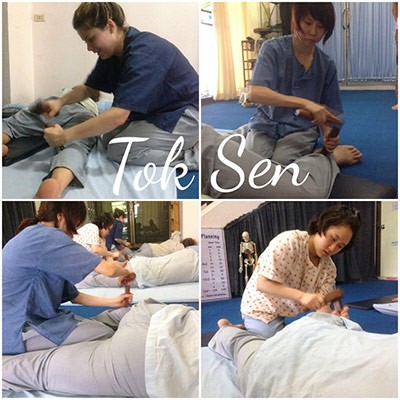 TOK SEN Therapeutic Nuad Thai: A Thai traditional medicine local wisdom is a sacred art of healing for Nuad Thai. In the past, this art is only passed on to the few closed students of the local healers. The specialty of this art is the tool. The wooden hammer and the stick are made from hard wood, and sometimes, it engraved and filled with mantra recited by the healer.  Tok means pounding and Sen means the energy line on the body. Tok Sen in this course will help the learner able to apply the tool in combination with herbal ball and massage to release muscle tension and alleviate certain conditions more effectively.  It's normally a part of learning in the 90 hour program at TMC. This is for a massage therapist who is not taking the 90 hour class at TMC. Hence prerequisite of Thai massage knowledge from any school is require.
Class Content Tok Sen Therapeutic Nuad Thai
Tok Sen Therapeutic Nuad Thai
Content  2 Days Course
Day 1
Introduction to the program, history, objective
Understand Tok Sen and its purpose
Contraindication and cautionary
Brief anatomy and physiology of muscles and bones
Understand Herbal Ball and application
Combine the use of herbal ball and Tok Sen to reach therapeutic goal and result
Explain muscle function and potential problems from muscle tension and purpose of the massage.
Application of herbal ball and Tok Sen massage demonstration and practice on how to apply Tok Sen  for shoulder, back, arm and leg
Practice in pair on back massage
Day 2
Explain and demonstrate basic screening to rule out if the condition is from muscle, joint or nerve problem to determine if massage is safe to perform.
Explain and demonstrate how to combine massage, herbal ball and Tok Sen to alleviate conditions of Office Syndrome: Massage on neck and shoulder, upper back and arms.
Practice the application
Explain and demonstrate how to combine massage, herbal ball and Tok Sen to alleviate conditions of Lower Back Pain: Massage on back and legs.
Practice the application
Practical test is a part of an on-going evaluation by the teacher during practical training of each lesson, correction are made along the training to assist student until able to perform each position adequately. A short quiz is given during the course day.
Completion of Tok Sen Therapeutic Nuad Thai
Note: Class schedule time-table may be adjusted according to the students' level of understanding. However, all lessons will be completed within the course time.