Duration:
12 hours (2 days) 09.00-16.00
Course Date:
Open Sat-Sun Click to see course date
For the schedule on Mon – Fri, please contact us in advance for availability.
Prerequisite:    
None
Offer with No   Extra Charge:

Receive workbook of Thai Table Massage.
An Earth Bag hand painted by special children.
Herbal tea, practice clothes, transportation in pickup zone.
Digital file for Memory of Your Time at TMC.

Translated Workbook:
Some levels are in some languages such as Russian, German, Vietnamese, Romanian, Spanish, Chinese, Dutch, French, and Japanese.
Available at the production cost for student in class who need the language.Please write for update details.
Course Fee:     

7,500 Baht (6,750 Baht with 10% discount)

Level 1, 2, 3, 4, 5 students get 20% discount if you take Thai Table Massage course while doing Level 1, 2, 3, 4, 5 at TMC School
Thai Table Massage is the most practical Thai massage for people who prefer to work with massage table. Great complement to spa to apply Thai massage with other massage modality and herbal ball application. The content of this course is based on Foundation of Thai Massage (Level 1), unique revised positions appropriately and applicable on Table and maintain genuineness of Thai massage formalities. The purpose is to suite the physical demand and work space to some practitioners and applicable to beginners as well. Practice on western style massage table with adjustable height for effective massage and body posture.
Class Content Thai Table Massage
Day 1:                                                                                                          
09.00
Introduction to Thai Table Massage.
Hands and arms exercise
Introduction-Hand position
Lesson 1: Head Massage
Lesson 2: Facial Massage
Lesson 3: Back Massage on Side Position
11.45-13.00
Lunch and rest
13.00-14.45
Lesson 4: Back Massage Facing Down
14.45-15.00
Break
15.00-16.00
Review and practice
End class
Day 2:                                                                                                          
09.00
Hands and arms exercise
Lesson 5: Arm Massage
Lesson 6: Abdominal Massage
Lesson 7: Leg Massage
11.45-13.00
Lunch and rest
13.00-14.45
Put all techniques and practice exchange massage for the whole body massage
14.45-15.00
Break for tea
15.00-16.00
Continue practice whole body massage
End class
Practical test is a part of an on-going evaluation by the teacher during practical training of each lesson, correction are made along the training to assist student until able to perform each position adequately. A short quiz is given during the course day.
Completion of Thai Table Massage course.
Note: Class schedule time-table may be adjusted according to the students'
level of understanding. However, all lessons will be completed within the
course time.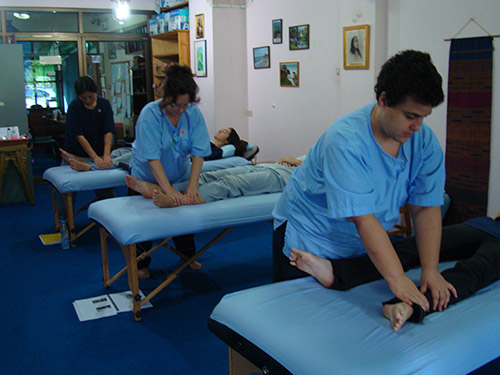 It is well organized and the staff are very friendly and helpful. Efficient learning."
Wa Zhou
China
Table Massage Course: 16.08.2015