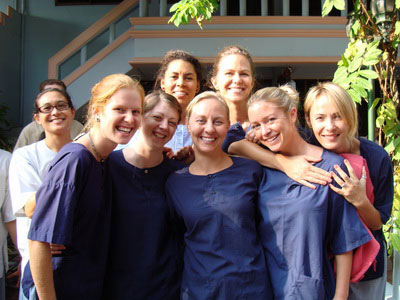 TMC school was even better than I had expected! The classes are very intensive and we were able to practice after every demonstration. I really enjoyed each teacher's teaching style. Each teacher has a pool of knowledge and provide excellent support. My week just flew by and I met wonderful people on the course. I can't wait to start practicing on friends and family. Thank you so much to all my teachers for their incredible support! I hope to come back in future when I have more time and have integrated all of the knowledge from level 1.
Salma Shah
England
20.12.19
I reviewed the feedback about the school on Google. I was looking for your professionalism in your organization, teaching materials, teacher to student ratio and experienced, dedicated instructors. I was never disappointed with my learning journey with TMC. You are my preferred massage school in Thailand.
Shuan Teck Seng
Singapore
28.11.19
I'm very impressed by the curriculum, methodology and methods of TMC. The teachers are knowledgeable, down to earth and helpful. The school functions in a systematic process-oriented manner. The non-teaching staff are also very friendly and helpful. On the whole, TMC is a good choice for anyone – beginner or expert – to learn about this ancient wisdom.
Gireesh Nambiar, 90 hrs
India
27.06.19
very professional and thorough. Well presented lessons. Very focused and excellent textbook for reference and learning. Thank you.
Miriam Collinge
NewZealand
18.01.19
Everything well organized, clear explanation. The massage school book is good and has nice pictures for good explanation. Love the teachers, they are very patience. After one week, I already learned more techniques. Thank you for that.
Glenn Kappel
Holland
17.01.19
The website drew me into book TMC – very professional + because it had social media with updates – (educational ones too). The school is amazing, so professional and all the teachers are so knowledgeable about Thai massage + anatomy. It has a really welcoming feel to it, especially with how lovely all the teachers are – I only completed my level 1, but I will be back in the future to complete further levels for sure. Thank you TMC.
Hannah Moon
Wales
18.01.19
I chose TMC partly because they replied to my enquiry immediately in a welcoming friendly way and because the website, which is clear and complete, showed the school to be well-organized, serious and thorough. And this has been my experience so far: everything is very well thought out including clean clothes to practice in, a beautiful book to study from and even a free tote bag made by special children. Another thing I really like is the fact that some of our school fees go towards helping a charity for special children.
Tessa Thiery
France
17.01.19
I didn't expected to learn so much in level I. The teacher are really good and explain everything in aneasy way. The book is perfect for learning the right positions as these are a lot of pictures which explain the movements you have to do. I've chosen TMC school because they offer one week of lessons to do level one. That was the perfect amount of time for me as I'm traveling. Thank you so much.
Jennifer Linxweiter
Germany
6.12.18
First I thought a whole week might be quite long for committing my time. Bust after a week of training I still just learned a glimpse of Thai massage. Definitely interested I continuing learning. Thanks for the great and intense teaching with amazing teachers!
Jonas Pohmann
Germany
29.11.18
I cannot than enough all TMC teachers I've had in the last three weeks. Every class I've taken was an absolute pleasure to attend. I appreciate the way classes are presented, structured and all teachers are 100% involved all this learning in most of the students looking to register for more classes. Keep it up TMC. Many thanks.
Anamaria Minolca
Romania
2.12.18
What a wonderful experience! TMC is beautifully maintained in a lovely area in Chiang Mai. The school is immaculate, the teachers are well trained and the atmosphere joyful and conducive to learning. I thank Margie Meshew, Thailand Connecting Inc. , Florida for organizing this opportunity for continuing education. Namaste!"
Nita Rippere
USA
19.11.18
I picked TMC because I really wanted to progress as a massage therapist and I also really wanted to travel as well. Both your country and school are filled it with amazing people and vibes and already I have been telling all the people that are important to me that they have to come and attend at least a week at this beautiful school. Thank you so much for a wonderful experience so far!!!
Sammy
USA
26.12.17
I chose TMC because the website was in-dept and I enjoyed now they gave us a book to follow during instruction. Instructor Dao and Thip were very helpful and we welcoming. If I have more time, I will definitely come back for more classes.
Katayani In
4.01.18
Professional, personable, great teacher-to-student ratio. Accredited, warm, family atmosphere. I am very impressed with the TMC, happy I received my education here.
Alexa Wilson
USA
4.01.18
This is such a great course and a really useful and practical way to learn. Teacher Dao and teacher Thip are talented, kind, wise and fun! I can't wait to come back for more.
James Girard
USA
4.01.18
TMC is a very goal oriented school. If you want to learn massage, they will get you there with lots of hands on practical and great teacher."
Zach McLabe
USA
3 July 2017
I chose TMC School after careful research and the experience was rewarding. The amount of knowledge acquired in short time is amazing. Teachers and staff are welcoming and professional; School and class are very well organized to ensure a great learning experience for all of us.
Ioanna Antoniou
Greece
90 hrs 10 Nov 2016
I feel Thai massage is very wonderful. I want to know more about Thai massage and I want to open a Thai massage and Thai spa shop. So I should be learn professional knowledge.
Atom
China
90 Hours 10 Nov 2016
I was recommended TMC by a friend and had a course here I am very happy so far with what we have learn. All the staff are absolutely lovely, Nim is a great teacher. The course has learn very information and very practiced I think it's a very good school will recommended it to my friends. Thank you very much.
Katie Cunningham
Australia
90hrs 10 Nov 2016
This school was recommended to me and my friend, who completed a course in TMC I am very impressed with the school customer service is excellent school is very clean & well organized. Every question I have is answered to the best of ability. I would recommend TMC to anyone.
Jacek Klimko
UK
90hrs 10/11/2016
I arrived to Chiang Mai I checked out 3 school this was my favorite and well organized, good teaching book, great teacher I am happy to be here.
Molly Edwards
USA
90hrs 10/11/2016
I did the course in Italy and I choose the TMC because a friend of mine came to the school and advise me to come to learn and practice other type of massage. Additionally I think Asia, over all Thailand, has an amazing culture about body and mind healing so it's the good place to learn.
Simona Anzola
Italy
90hrs 10/11/2016
I chose to come to TMC because of how great the opportunity is to come study in Thailand and receive credits in the US. TMC highly exceeded my expectations. The school is clean, beautiful air conditional We were greeted by Aam the staff in an absolutely kind friendly every staff member is incredible humble, respectful I highly recommend come to TMC I will be back.
Dora Briseno
USA
L.1-2, 10 Nov 2016
This place is wonderful everyone is friendly, helpful, informative and patient I highly recommend TMC to any massage therapist.
Kimberly J Schroeder
USA
11 Nov 2016 L.1-2
om setting was professional but relaxed. The teachers did a great job with the lessons and were very personable and easy to talk to. The content was amazing. The only suggestion I have is to spend a little more time covering the sen sib lines or assign homework the night before to review sen sib so that we are more familiar with the terminology. Other than that, thank you for a wonderful and education, life changing experience.
Esmeralda Guevara
USA
17 Nov 2016 L.1-2
Good friends recommended TMC and I have been happy with my choice of learning here. Thank you.
Joy
Australia
90 Hours, 9 Sep 2016
Read more reviews on desktop version, click here