Duration:
300 hours  Phase I (50 days) Mon – Fri 09.00-16.00
Course Date:
Open Monday: See Schedule below
Prerequisite:    
None
Offer with No   Extra Charge:

Receive text book for Level 1 "Ancient Thai Massage Healing with Prana: Fourth Edition" value 890 Baht.
An Earth Bag hand painted by special children.
Level 2 workbook with systematic sequences of 160 positions learned from Level 1; additional 19 lessons manual; 12 variation techniques manual; complete 17 postures of Yogi Stretching Exercise.
Level 3 detailed workbook 191 pages of 22 healing lessons proven to be effective by the Thai Massage Revival Project including full detail in the making of Herbal Ball and the application to Thai massage healing, additional variation technique manual. TOK SEN Therapeutic Nuad Thai to enhance healing in combination of all 3 levels.
Three herbal balls -1 fresh- 2 dried.
Tok Sen tool-hardwood hammer and stick.
Continue from Level 1-2-3, receive handouts on each half day lecture by the following professor and lecturers:
Lecture and workshop on "Applied Anatomy, Physiology and Kinesiology for Thai Massage" by TMC Teaching Team. To understand anatomy and physiology and conditions in relation to Nuad Thai and able to apply basic screening to evaluate receiver's condition for massage planning and safety Nuad Thai.
Lecture and workshop on "Theory of Thai Massage" by TMC Teaching Team. To be able to provide safe, polite and effective massage.
Thai Foot Reflexology workbook with chart and tool. During week End with additional certificate for the course.
DVD digital Thai Foot Reflexology for Health
Continue from 5 week study; receive workbooks for Thai Table Massage; Foundation of Thai Massage Applied on Table: Level I Plus.
Handouts on each lecture and workshop:
Lecture and workshop on "Fundamental Principle of Physical Examination for Thai Massage" by TMC Teaching Team. This subject will enhance knowledge and awareness to the therapists in physical examination necessity to make effective massage planning and successful therapeutic massage for the receiver.
Lecture and workshop "Anatomy & Pathology Conditions and Treatment with Advanced Thai Massage and Physiology Technique" by Assistant Professor Dr.Aatit Puangmali _Vice Dean from Department of Physical Therapy, Faculty of Associated Medical Sciences, Chiang Mai University. This subject will provide therapists with knowledge of anatomy and pathology of the conditions in relation to Nuad Thai. How to evaluate and plan for effective treatment and how to improve wellness for the clients.
Lecture and workshop on "Trigger Points and Myofascial Pain: Pain Relief and Management" By Assistant Professor Dr. Aatit Puangmali – Vice Dean from Department of Physical Therapy, Faculty of Associated Medical Sciences, Chiang Mai University. This highly in demand subject with crucial knowledge in the massage field. This important class will take the therapist to the more in depth of the pain management and able to help the clients with combination techniques and tools in Nuad Thai.
"Discussion of massage career and Teaching Business in Thai Massage" by TMC Teaching Team. Sharing knowledge and real life experience in the field and discussion in future planning in the class.  Explain TMC full support in teaching career.
Teaching training Thai Foot Reflexology by TMC teaching team.
Teaching training Nuad Thai by TMC teaching team.
Herbal tea, practice clothes, transportation in pickup zone.
Digital file Memory of Your Time at TMC.

Translated Workbook:
Some levels are in some languages such as Russian, German, Vietnamese, Romanian, Spanish, Chinese, Dutch, French, and Japanese.
Available at the production cost for student in class who need the language.

Please write for update details.

Course Fee:     

92,800 Baht (74,240 Baht with 10+10% discount)
Receive 20% discount when apply for all 10 weeks at the same time. Discount is given at the school on the first day.

Take 10 weeks:
Check course date below.
Thai Massage School of Chiang Mai and Thai Massage School of Thailand earn the trust and acknowledgement from Ministry of Education of Thailand to teach the most comprehensive and prestigious curriculum of Government Certified Thai Massage Professional and Teacher Training International 300 and 600 hour Curriculum (GCT—Government Certified Teacher).
TMC is the sole Thai massage school in Thailand to receive authorization by the government to teach professional and teacher training with teaching credential international curriculum of GCT 300 hour and 600 hour program.
Ministry of Education by Chiang Mai Governor Office approved the Government Certified Thai Massage Professional and Teacher Training International Curriculum (GCT) to TMC following the final inspection and approval of the Education Department, Public Health Department and the advice of specialist scholar of Thai massage field that TMC possess complete essential teaching curriculum content for all required standard in theory, practice, education training, teaching apprentice, teaching aids and facility to support the education, and qualified instructors both in theory and training, accompany with strict discipline and high standard of school operation
TMC offer the curriculum with the highest standard in teaching training. The Chiang Mai Chief of Education Department had issued a certified letter to ensure the authorization of the curriculum and the high standard performance of the school for both curriculums.
The Graduation Award Government Certified Teacher class: The Chiang Mai Chief of Education Department presided and award the diploma and teaching credential to the graduated teachers at the GCT graduation ceremony in April 2004.
Government Certified Teacher students are the most prestigious and honorable learners. To become a Thai massage teacher, one must process complete qualification which includes solid foundation in Thai massage techniques, knowledge in anatomy, pathology, physiology, kinesiology, body movement, contraindications, basic physical examination and evaluation for safe practice, theory in Thai massage and most importantly the education knowledge in teaching.  All these knowledge and more are needed for the teacher to obtain, retain and continue to grow. In teaching, there is also learning.
"Fundamental Principle of Physical Examination for Thai Massage" And "Anatomy & Pathology condition and treatment with Advanced Thai Massage and Physiology Technique." 
By Assistant Professor Dr. Aatit Paungmali from Department of Physical Therapy, Faculty of Associated Medical Sciences, Chiang Mai University.
This important course is for massage therapist and teacher to understand and be able to perform physical examination to evaluate the condition of the client in term of performing massage safely. Dr. Aatit will go in real action of how you can check the client's body to find out if it is nerve related condition or muscle tension. The professor also teach the stretching exercise to help the client and for the therapist to teach the client for self-exercise.
GCT teacher training students are trained under the goal to become Thai massage teachers from day one. They start attend levels of Level 1-2-3 but under more discipline training from the teachers. These 3 courses are the foundation of all Thai massage is about. GCT students are taught to learn each class while observing how teacher demonstrate.
Healing Massage Services to Senior and Special Children: Teacher training students attend more formal education training, lecture and workshop in-depth and in boarder understanding than other programs. Students perform Thai massage in advance level for community of senior at the senior center and special children at the center. They apply knowledge they learned for the special people under the teacher's guidance and supervision.
 "Anatomy and Pathology in Relation to Thai Massage Study on Human Body  at the Cadaver Lab" at Chiang Mai University Medical Center by Dr. Vipavadee Chaisuksunt, Ph.D. Neurology and Assistant Professor Yingpan Anusri from Chiang Mai University Faculty of Medicine.
Professor Yingpan and Dr. Vipavadee will go in-depth with students on how the muscles, tendon, blood vessels, nerve and lymph look underneath our skin!
The professors will explain how the muscle and organs function and show the cautionary areas to Thai massage also the contraindication in relation to the human body. You will have a life time experience and some even get to the pint of understanding the true meaning of life!
Students will receive class preparation from TMC school and a lab manual prior to attend the class at the university. Students will receive the certificate of attendance from Chiang Mai University Medical Center for the class.
Intensive Professional 150 Hour (i5) & Government Certified Teacher (GCT) Program
"Applied Anatomy, Physiology and Kinesiology for Thai Massage"
to evaluate the recipient's condition and to ensure safety. This class is taught by Asst. Professor Aatit Pongmali, Ph.D. or Arjan Araya Yankai professors from Department of Physical Therapy, Faculty of Associated Medical Sciences, Chiang Mai University.
The professor will teach how massage therapists can identify and locate the part of the body in relation to Thai massage to provide effective result and avoid damage to the body. Students will learn about kinesiology and  the body movement in Thai massage. This is the must attend class for all massage therapists!
Teaching Education and Teaching Preparation: GCT teacher training students undergo formal and effective foundation to become a teacher by learning: Teaching Education; Teaching Planning; Preparation to Teaching;  Business talk; Teaching Demonstration; Actual teaching with community students:  Method of how to conduct classes in actual setting.
Thai Step-On Massage—The ancient art of healing: GCT will learn modality of Thai Step-On Massage using cane during i5 training. Then further learning to apply with rail to balance the body while using feet to give massage. This is the replica from the temple where TMC teacher trained for the art and received permission from our venerated monk teacher to teach to students. This is the most unique and signature modality of Thai massage since the ancient time that the foreigners are familiar with the quoting from the French Embassador La Lubare " In Siam, when someone fell ill, the person with massage experience would start to help stretch the body by stepping on the receiver…"
High Risk Stretching Positions for more advanced learning: For the level of training, GCT students are capable to perform more strenuous stretching safely.  The school offer more stretching positions and differentiate them as "High Risk Positions". The teachers will pay much closed supervision during practice. Some positions are integrated in other classes prior to GCT for massage internship training (MIT).
The teaching training in actual class setting:  The curriculum requires interns to conduct real class according to the course curriculum. The GCT interns will have opportunity to perform two courses teaching training. The teaching may conduct at TMC school setting or at the community center. Real stage community teaching can be one of these samples:
The Young Women Development Center (YDC) at Mae Rim, Chiang Mai. This is the center where girls ages from about 16-20 year old taking vocational 2 year program under YDC administration. The class of approximately 24 girls will get the chance to study Thai massage for career from Foundation of Thai Massage up to professional levels including Thai Foot Reflexology class by GCT teacher training 300 and 600 hour programs and TMC teachers.
Thai massage teacher training program provide the choice and chances to the girls to find and fulfill their dreams. The Public Health Department is working with TMC school being liaison between the graduates and the quality Thai massage business provider. The girls receive free training and complete with workbooks and practice materials.
Teaching Credential
The only way to be a true teacher is the competent knowledge, and the actual experience in quality teaching training, plus the teaching credential authorize by the appropriate authority.

All students graduate from Government Certified Teacher training program at TMC school are the certified teacher authorize to teach Thai massage classes where legal requirement are met.
GCT: Government Certified Teachers represent TMC school to the world and can join with TMC school to offer TMC approved courses to anyone under affiliation program. Their students may continue higher learning at TMC school Thailand.
The authorized courses for GCT 300 Hour Curriculum are:
Foundation of Thai Massage (Level 1)
Foundation of Thai Massage Applied on Table (Level 1 Plus)
Thai Foot Reflexology
Thai Table Massage
Thai Chair Massage
Note: To provide education in Thailand, the operator must follow the Thai's law in establishing his/her own school. The school must provide its diplomas to their students. The TMC affiliation program does not cover GCT teachers teaching Thai massage in Thailand. Please write to TMC should you have plan to take GCT program in order to provide teaching in Thailand.
GCT 300 Hour Curriculum Content
Should see detailed content on Level 1-2 and 3 click here 
Content of the program containing the following subjects but may not occur in this order.
(Note : 1 day = 6 in-class hours)
5 Days: Foundation of Thai Massage: Level I
5 Days: Thai Massage Enhancement: Level II
5 Days: Therapeutic Thai Massage: Level III
11 ½  Days: Thai Massage practice internships includes:
1 day Thai Massage for senior persons at the senior center.
1 day Thai massage for special children at the children center.
8 ½ days Application and integration skill learned with new techniques, massage student guests, additional variation techniques; healing massage; massage for in-house guest and massage planning.
1 day: practical examination exchange massage with student/review with teacher
1/2 Day: Lecture on Applied Anatomy, Physiology and Kinesiology for Thai Massage
1/2 Day: Lecture on Applied Anatomy and Pathology in relation to Thai Massage
1/2 Day: Lecture on Applied Anatomy Fundamental Physical Examination for Thai Massage
1/2 Day: Anatomy Cadaver Lab at Chiang Mai Medical University
1/2 Day: Combined lectures and workshops in-class on contraindications and anatomy
1/2 Day: Lecture on Theory of Thai Massage, preparation of a good Thai massage,
and Professional Ethics.
1 Day:  Thai Traditional Medicine local wisdom massage modality of Yam Khang and
Tok Sen at TMC.
1 Day: Teaching education: Planning and problem solving
3 Days: Thai Foot Massage
1 Day: Thai Foot Massage teaching training education
2 Days: Thai Foot Massage teaching internship to community group
1 Day: Stretching for healing and therapeutic situations integrated in Thai massage
1 ½ Days: Thai Step-On Massage (Applied foot press in Thai massage)
2 Days: Foundation of Thai Massage (Level I) teaching education
5 Days: Foundation of Thai Massage (Level I) teaching internship to community group
1/2 Day: Written examination and review massage with teacher
2 Days: Foundation of Thai Massage Applied on Table: Level I Plus Teaching Training
1 Day: Thai Chair Massage Teaching Training
1/2 Day: Overview on Teaching career and Massage Business
TOTAL 50 DAYS OR 300 HOURS IN-CLASS CURRICULUM
Note: Some activity may change subject to the available contact but all the hours will
be fulfill.
รูปภาพเดิม
Course Date
Registration
Back to top
Students may enroll for GCT 300 and 600 Phase I and II consecutively with one week break.
Students may also complete GCT 300 and return to continue with GCT 600
Phase II any time in the future when course available. Please contact TMC for Visa information.
Memory of Your Time at TMC School
TMC is aware that you may wish to share the moment of your study and activity while learning at TMC and during field training with people in the community. The school will take photos for you in some moments during your various activities except graduation and will put them in a CD and give to you during your   graduation.
Students are not allowed to bring any form of camera in the classroom or during field training. This is to avoid distraction of your learning and others also to protect other's right that we do not have and unable to control from each student camera. So, leave the taking photos to us and BRING CAMERA DURING YOUR GRADUATION!
It's a celebration time…
GCT Post Graduate Review
Graduates of Government Certified Thai Massage Professional and Teacher Training (GCT)
300 Hour and 600 Hour Program:
TMC offer the Post Graduate Review  to support the continuing education for our GCT graduates whom we are proud to address as "Thai Massage Teachers Representative of TMC Thailand" — GCT Teachers. Following the GCT program or at the future date, the graduated teachers are able to attend the Post Graduate Review at TMC school for a period of 1 week without additional charge.
Objective of the program: The GCT teacher will be able to gain from the program as follow:
To review the class of Level 1 or 2 or 3 to strengthen the knowledge.
To update the techniques and information as TMC constantly improve the curriculum.
To experience and observe the teaching of the teacher while in classroom training.
To improve performance under guidance of the teacher.
To receive credit of the class attended.  (Some may be able to use as continuing education – check with your association on this if you plan to use it.)
Terms of the arrangement of the class review attendance:
The post graduation review class is offer as the courtesy to GCT teachers to strengthen the knowledge and to update information and there is no tuition fee charged.
GCT 600 earns 2 weeks review period and can be taken 1 week at a time.
This offer is good one time only—meaning only 1 week – or 2 weeks for GCT 600 no tuition fee charged. If the GCT teacher wishes to attend more than 1 week offer at anytime the fee will be discounted 50% from the full rate of the course and can request for available class.
The class offer with complementary transportation, practice clothes, and tea. The text book and manual will not be given but can offer as a loan during training. The school suggest the attendee to purchase the updated manual – if do not have one – for current teaching tool for your own students.
GCT teacher may apply for the class right after the graduation or in the future date.
All attendance must request in advance and receive acceptance from the school.
Class schedule is subject to the availability and upon the school arrangement.
The class will be joining an on – going classes of Level 1, 2, or 3. In some occasions, there are lecture class going on and space available, the GCT teacher may request to attend with no charge—except Cadaver Lab there will be fee.
The GCT teacher may specify the preference of the level wish to attend the school will attempt to assign to the preferred class. However the class assignment are to be in this manner:
The school will assign GCT teacher to the class requested if space available.
Space available means the on-going classroom is within the maximum limit.
The school will not be able to open another class to accommodate for this arrangement.
 The school will assign attendee to the next available class may be not the first choice requested i.e. requested for Level 1, but assigned to Level 2 or 3.
The school cannot promise wish Level to attend until the first day of class.
If the GCT teacher does not wish to attend the class assigned beside what requested, he/she may cancel this request and return to the future date.
Once start the class, this offer is fulfilled though the attendee did not complete the class.
This is the pilot offer program and we hope to be value learning experience to our graduates. However, TMC reserve the right to cancel the review offer any time in the future without advance notice, except with prior accepted graduates, the school will continue as promised.
GCT graduated teachers are the gems of the school and of the world. We are proud of these teachers with the love of Thai massage to heal and to spread the knowledge for others. We offer this review without financial gain to be a part of sharing to the world of Thai massage with all the teachers. We hope that this program will go on and benefit all involve.
TMC cannot be held accountable for any damage or expenses should the class assigned is canceled due to reasons beyond TMC control. However, TMC will attempt to notify the graduate at the earliest possible or attempt to arrange for suitable learning substitute when possible.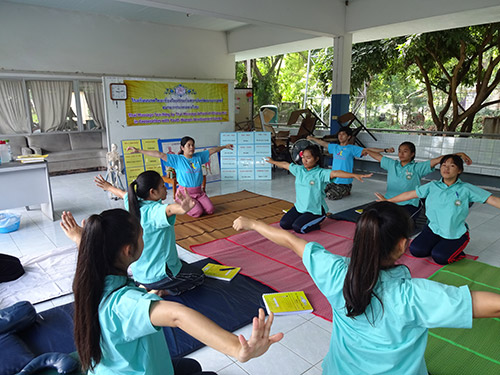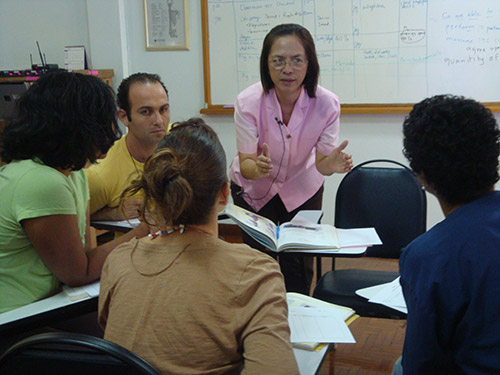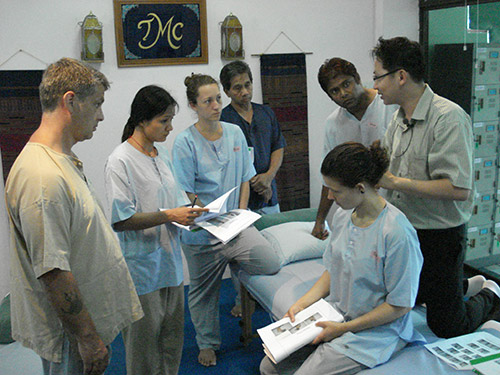 The first time I came to TMC, I completed the i5 course, I loved the school and learned a lot, seven years later, I returned to learn more. I was not disappointed. TMC is very organized and structured. They care about their students and desire to give them the best education & experience in Thailand they can provide. They bring in guest speakers from the university & hospital in the area to help us understand the body better. They also take us on fieldtrips to help give us understanding of the body & herbs used in Thai medicine. And they give us the opportunity to give back to the community that has taught us so much by massaging the elderly & disabled children and teaching at a correctional facility. This school, in my opinion is the best in Chiang Mai & one of the best massage schools I have ever attended. Thank you TMC!"
Jennifer Feldmeyes
10 October 2013